This FAQ section is created to provide a better understanding to aTalk users on the application features and observed behavior. This section will continuously be updated as more inputs are feedback from aTalk users.
CONTENT
---
Account Setup & Login
A Service record (SRV record) is a specification of data in the Domain Name System defining the location, i.e. the hostname and port number, of servers for specified services.
The service domain host/server does not implement or contain the required SRV record
The service domain name is a virtual host and is neither reachable nor listed in the DNS
SSL Certificate Authentication: The Secure Socket Layer (SSL), now technically known as Transport Layer Security (TLS) is a common building block for encrypted communications between clients and servers, basing on Public-Key Infrastructure (PKI) model. In a typical SSL/TLS usage scenario, a server is configured with a certificate containing a public key as well as a matching private key. During handshake between an SSL client and server, the server proves it has the private key by signing its certificate with public-key cryptography. However anyone can generate their own certificate and private key, hence this simple handshake doesn't prove anything about the server other than that the server knows the private key that matches the public key of the certificate. To address these downsides, the host platform generally contains a list of well known Certificate Authorities (CAs), and clients may only trust certificates that are signed by these CAs. However PKI is pruned to A Man-in-the-Middle (MitM) attack, and its implementation suffered also security breach by CAs. MitM is a cyber attack which takes place when a hacker (attacker) places himself between the client and the server and impersonates one of them. The DNSSEC and DANE attempt to alleviate these threats.
DNSSEC (DNS Security Extensions): The DNS is used to translate a FQDN domain names like example.org into numeric Internet addresses like 192.181.6.1, which can only be understood by router for a physical connection establishment. Unfortunately, the requestor/computer accepts any translated address given to it, without questions asked. This means existing DNS infrastructure is vulnerable to security issues; that allows an attacker to hijack this DNS process of looking a site up on the Internet using FQDN. The purpose of the attack is to take control of the session to, for example, send the user to the hijacker's own deceptive web site for account and password collection. Hence requirement to introduce a new DNSSEC technology to secure this part of the Internet's infrastructure.
DANE (DNS-based Authentication of Named Entities): SSL/TLS encryption is currently based on certificates issued by certificate Authorities (CAs). Within the last few years, a number of CA providers suffered serious security breaches, allowing the issuance of certificates for well-known domains to those who don't own those domains. DANE enables the administrator of a domain name to certify the keys used in that domain's TLS clients or servers by storing them in the DNS TLSA Record. DANE needs the DNS records to be signed with DNSSEC for its security model to work, hence DANCE requries DNSSEC. Additionally DANE allows a domain owner to specify which CA is allowed to issue certificates for a particular resource, which solves the problem of any CA being able to issue certificates for any domain.
aTalk supports the following connection establishment security mode. Please note that both DNSSEC and DANE implementations are still at expermental implementation by miniDNS/smack/aTalk. DNSSEC does not work on server with a self-signed certificate or certificate signed by untrusted root CA's. You may refer to android Seurity Settings for a list of trusted CA certificates.
SSL Certificate Authentication: Perform only authentication of service's SSL certificate, verifying against the trusted root CAs who signed the certificate.
DNSSEC: Require all DNS information to be authenticated by DNSSEC; making connection only on success.
DNSSEC and DANE: Require all DNS information to be authenticated by DNSSEC, and require the XMPP service's SSL certificate to be verified using DANE.
Plese refer to the following sites for more information:
To setup a Google Talk account on aTalk, follow the steps below
From the main menu, choose Account Settings... | Add new account.
Enter your goole gmail account and the regular password as shown above.
Click the Sign in button.
If you have previously set up Two-Step Verification for your Google account and try to log in with your regular password, you may receive an error message like the one shown on the right.
To allow log in from aTalk, you need to generate an application-specific password. For instructions see Sign in using application-specific passwords
Enter the App password which is a 16-digit passcode, exactly as provided including the spaces into the password field, and click Sign in.
You should now be able to chat and make media call with another Google account signed in using aTalk.
The media call option is not available if your buddy is using Google own client e.g. Hangouts. This is beacuse Google Hangouts does not advertise its media call capability via XMPP discovery protocol. However your buddy on Hangouts can initia a media call with you.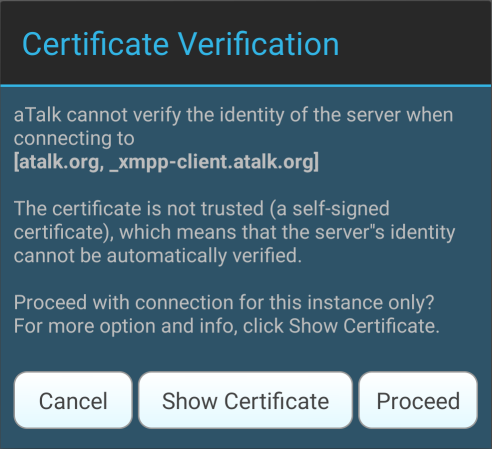 Most of the servers today have SSL certificates installed on their sites. The certificates usually are signed with the private key of a trusted certificate authority. The certificate contains the domain name and/or ip address of the server. When you visit the site, this certificate is fetched and compared against the public keys of all the major certificate authorities; and confirms with the certificate authority that the address listed in the certificate is the one to which it has an open connection.
In aTalk, when you setup an account and sign in on new server, android OS checks for the site certificate validity during the SSL secure socket connection setup. If the site certificate is signed by a trusted certificate authority and is also listed in android certified trusted authority list; android proceeds normally with the SSL socket connection, otherwise it throws CertificateException.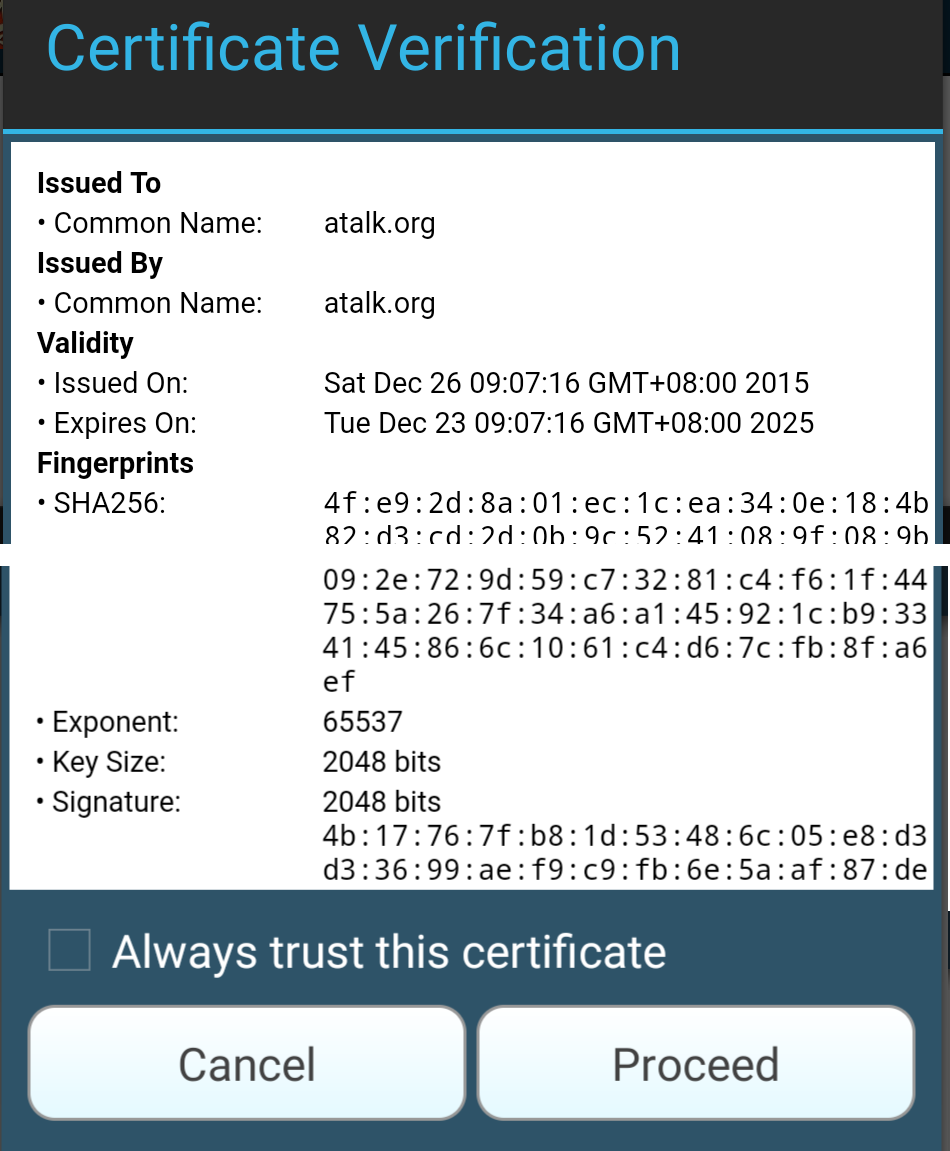 If you take some time to confirm the certificate before proceed, the server login hold time may have expired and the established connection gets disconnected. Under this case, you need to login a second time. If you continue to receive login failure, please check the error messages return from the server, make the necessary correction/action e.g. make sure jabber Jid, password entries are correct or IBR is required before attempt to sign in again. You may refer to other sections in this page on how to create a new account.
---
Enhanced Features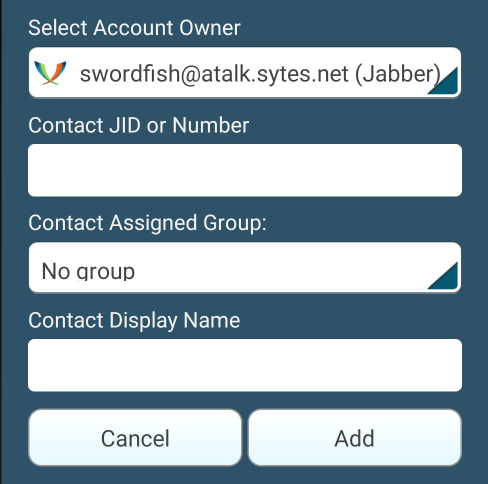 In order to protect the privacy of XMPP users, presence information is disclosed only to other entities that a user has approved. When a user has agreed that another entity is allowed to view its presence, the entity is said to have a "subscription" to the user's presence. An entity that has a subscription to a user's presence or to which a user has a presence subscription is called a "contact".
To add a new contact to your buddy list, from main menu select [Add contact]. A form is displayed for your input.
Select Account Owner: This spinner will list all your registered user accounts for selection. Select one of the registered users to assign the new contact to.
Contact JID or Number: Here you specify the contact Jabber (without the resource), whose presence status ou like to subscribe.
Contact Assign Group: You can group for new contact to your existing group or create new. Click on the selector for a list of options.
Contact Display Name: The new contact name you would like to show on your contact list. aTalk uses the Jid if you leave this field empty.
Add Button: Click on Add button once you have entered all the new contacts properties.
Cancel Button: Click Cacel to abort the request and discard all the information entered.
No group: Any unassigned contacts will be group under default Contacts group.
atalk member: Any existing groups will be listed here for selections.
Create group: The "Add Contact" dialog provides the option to categorize your new contact to one of your existing defined groups or a newly created group.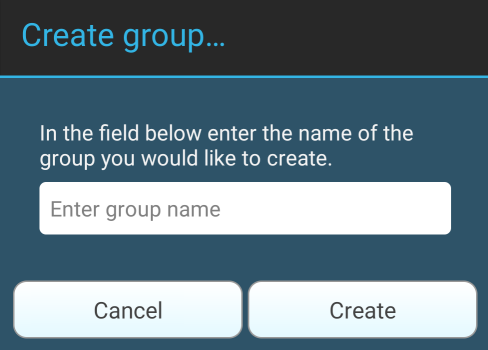 When you add a buddy to your contact list, aTalk actually makes an online subscription request to your buddy for his/her approval. In this process, your hosted server routes your subscription request on local machine if the buddy is of the same server; otherwise via remotel connection to the buddy hosted server. The server-to-server (s2s) connection setup uses the IP derived from your buddy account service name i.e. example.org from "buddy@example.org". If the derived domain is not a Fully Qualified Domain Name (DQDN) and canno be resolved to an IP, the subscription request process will fail.
With the current XMPP standard defined for Presence Subscription, it is therefore not possible to add buddy whom resides on a different server where his/her account JID does not contain the FQDN. You are also unable to send message to your buddy in this case since the message is delivered via s2s network connection.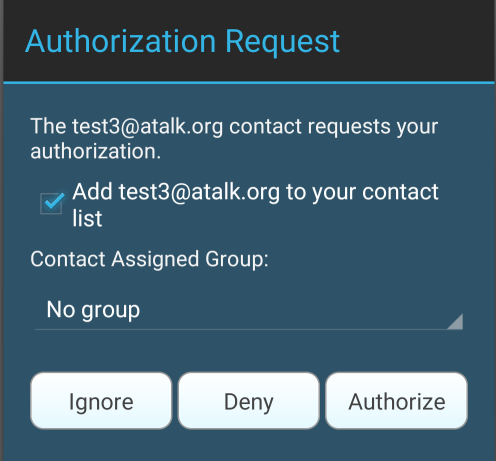 In the event if you choose to ignore your buddy request; any further re-authorization request from your buddy will not trigger another Authorization Request. However the server will resend the request when you exit and login again. This process continues until you have made a decision either to Deny or Authorize the request.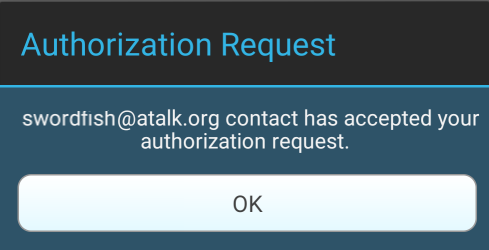 Your XMPP service admin may choose to create share-rosters on the server, grouping all the related members in each categorid roster group. Upon first login, every member of the group will have his/her contactList populated with all the members within his/her roster group. This saves the memeber to manually subcribe to everyone in the related entity.
Every location on earth has a global address, given as two numbers called coordinates. The two numbers ("Lat/Long") are a location's latitude number (north-south) and its longitude number (east-west). Together with help from google global location service, you can display the global address in graphical views as streetViews and map of the location understand by human.
On the streetViews and map display screen, you can select (press and hold) the little orange man figure and then drag to a new location on the display map, the streetView display will also be updated according to the new selected map location. You can also change the device pointing direction for a 360° panoramic view of the current select location on the map.
Followings are some possible use of the StreetViews & Map feature:
Allow your love one at home to virtual travel with you while you are visting places on tour. Sharing nice scenary viedo wtihout consumming big data usage.
When you are back from travelling, you can play back the location messages. A sweet memory recall or share with friends of all the places you have vistied.
Lost your way while visting your friend? Just share your gps-location and start a voice call. Your friend can guide you until you have safely arrived at the destination.
In the remote chance that you are in trouble; just start the continous location update to activate the location streaming. Your love one can track your location and help will be on the way.
standalone feature without sending location messages: Travel alone and lost your direction bearing? Just enable the feature, realign your current location and direction using the streetViews and map information. This should help you to avoid unneccsary walking in the wrong direction.
In the main menu, sliding right will show a list of the chatRoom's in which you have once being actively participated in the MUC chat. These are likely to be persistent rooms. aTalk has the following MUC features implemented.
If you attempt to open a member-only room when you are not in the room member list, the process will failed with an error message. You will no be able to receive or send any messages in the chat room. Likewise you will receive an error message if you attempt to destroy chatRoom when you are not the room owever.
For ease-of-use in a Jabber client, it is desirable to have a way to store shortcuts to various services and resources (such as conference rooms and web pages) as "bookmarks" that can be displayed or duplicate in other user's client. In aTalk implementation, the bookmark attribute autoJoin is also extended to be used as local standalone opton.
When you slide to the chatRoom list upon first login, the chatRoom list will be populated, in additional to your exisitng local chatRooms, with the chatRoom bookmarks you have previously saved (from another client) on server. aTalk auto joins chatRoom if the autoJoin option is being enabled in the newly downloaded bookmark or via locally specified autoJoin option.
Account: The user account spinner contains all the users whom are registered on aTalk. When you select a user from this spinner, the Chat Room spinner will automatically be populated with the list of chatRooms that are associated with the selected user account.
Chat Room: The spinner contains a list of the all the chatRooms that are associated with the selected user in Account field. The chat room spinner includes all the local persistent chatRooms that are listed in the chat room list slider page i.e. local and bookmarked. In additional it also includes all the chatRooms that are resided on the server, to which user has once joined as a participant on invitation but has left. If you enabled autoJoin and/or bookmark option(s) on any of these server chatRooms, aTalk will include this chatRoom in the chatRoom slider page when you click the Apply button.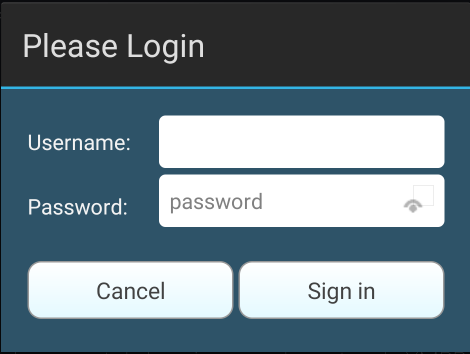 aTalk v1.5.2 has added support for Stickers, Bitmoji and Emoji rich content sharing using Google Gboard keybard. The Google Gboard keyboad is normally pre-installed on the latest android devices. If your android device does not have the Gboard, you may install it from Google play store.
Android device with Google Gboard keyboard, it allows user to share sticker and Bitmoji in addition to the current emoji, in messaging apps like aTalk.
With Gboard, users can download third-party sticker packs and/or the Bitmoji app from the Google Play store; and then send these stickers and Bitmoji while using the Gboard keyboard. When using the Gboard keyboard, users first tap the emoji button, and then tap either the sticker button or the Bitmoji button to search for the content they would like to share with the buddy.
Stickers, Bitmoji and Emoji rich content sharing is supported during an 1:1 chat or chatRoom session.
Plese refer to the following sites for more information:
aTalk supports send and receive files for all document types and images. There is an option to enable thumbnail preview before the actual file is being sent. To send or receipt of thumbnail, both the sender and recipient devices must have this option enabled; and the transfer file size is smaller than the 'Auto accept max file size'. The actual file is sent upon acceptance by your buddy. When XEP-0096 protocol is used, aTalk allows automatic acceptance of file transfer request or stickers sending if the size of the file to be transferred is less than the user defined max file size option.
aTalk implements fault-tolerance file sharing to ensure reliability. aTalk SI File Transfer protocol supports both the SOCK5 and IBB bytesStream options, with IBB as fallback if SOCK5 failed. During file transfer, aTalk attempts to use the more efficient SOCK5 bytestreams method if the recipient client supports it. However if SOCK5 byestream method failed for reason e.g. client symmetric NAT fireware, aTalk automatically fallback to use IBB method to ensure a successful file transfer.
When aTalk detects your buddy is offline, it automatically selects the HTTP File Upload facitiy, if the protocol is supported by your xmpp service, to continue with the file transfer.
XEP-0096: SI File Transfer specification has no provision to transfer file when you are in a muc/conference chat room. Under this condition, aTalk checks the server for HTTP File Upload service support, and uses it if availabe to support file sharing between chat members in conference room.
In wireless communications, fading is variation of signal with time, geographical position, and radio frequency. Fading is frequent in mobile devices and may cause momentarily newtork data lost or disconnection. To improve network communication reliablity and minimize data lost, aTalk implements both XEP-0198: Stream Management and Reconnection Manager.
In Stream Management, all stanza data exchanges between client and server are verified and acknowledged. When a stanza data is lost during fading, either entities will attempt to resend stanza data that has not been acknowledged by the recipient.
In event that a sudden lost of network connection is detected, Reconnection Manager will automatically start the reconnection sequence using the algorithm defined below:
at 5~15 seconds interval for 6 attempts
at 30~90 seconds interval for next 6 attempts
at 2.5~7.5 mins interval until connection is established successfully
aTalk requires network connection in standby mode in order to receive messages or media calls. If you disable all network connection during device standy, reconnection manager will kick in once it detects network lost, and continues until you manually exit aTalk. Do ensure either GSM network or WiFi network remains accessible when device goes into standby mode. If all network is disabled in standy mode, you may also need to restart aTalk when device is waked up.